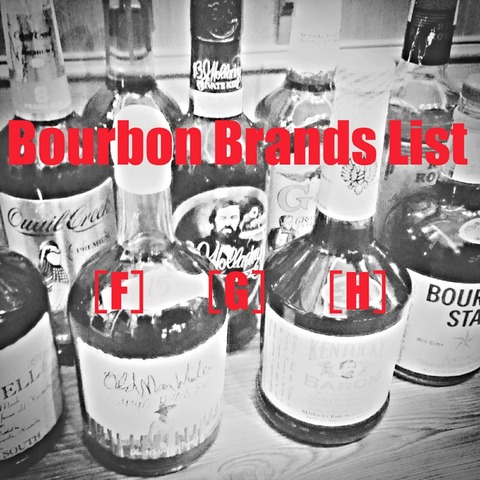 Bourbon Blands List
【F】
Fast Luck Light Whiskey─Mosswood Distillers
Fearless Wheat Whiskey─Catskill distilling Co.
Feb 22 Bourbon
FEW Bourbon Whiskey─FEW Spirits
FEW Rye Whiskey─FEW Spirits
FEW Single Malt Whiskey─FEW Spirits
Fiddler Wheated Bourbon─ASW Distillery
Fighting Cock─NAS 103p, 6y 103p, 8y 103p, 15y 103p(JP only)
Filibuster Bourbon & Rye─M.S. Trading LP, distilled by MGP
Firefly Moonshine
Fistful of Bourbon
Five Fathers Single Malt Whiskey─NAS 110p, the Old Pogue Distillery
Flatboat─Founders Company
Fleischmann's Rye and Blended Whiskey
Fletcher's Blended Whiskey
Flint Creek─Founders Company
Forever Whiskey
Forged Oak─Diageo's Orphan Barrel series, distilled at Bernheim
Four Gate─Four Gate Whiskey Company
Four Roses Black─JP only
Four Roses Blended
Four Roses Rye─Frankfort Distilleries
Four Roses Super Premium─JP only
Four Roses Single Barrel
Four Roses Small Batch
Four Roses Small Batch Select─104p, non-chill filterd
Four Roses Yellow
Freakin' Lightning Spirit Whiskey
Furlough Whiskey
【G】
Garrison Bros. Texas Straight Bourbon Whiskey
Gentry Charleston Lowland Bourbon
George Dickel─No.8 80p, No.12 90p
George Dickel Barrel Select─86p
George Dickel Hand Selected Barrel
George Dickel Rye─90p
George Remus Bourbon & Rye─Queen City Whiskey/Strong Spirits, now MGP owned
George T. Stagg─BTAC
George Washington
Georgia Moon─Viking Distillery, now Heaven Hill
Giant Texas Bourbon Whiskey
(the) Gifted Horse─Blend of Bernheim bourbon and MGP bourbon and corn whiskey
Good Old Guckenheimer
Gran Legacy Blended Whiskey
Green River
Groveland Reserve Bourbon
Gukenheimer
【H】
H.S. Barton's Old Bouquet Bourbon
Haller's County Fair
Haller's Reserve
Hancock's President's Reserve
Single Barrel Bourbon Whiskey─NAS 88.9p, Mash Bill #2, made at BT,
Age International
Harlem Standard─American Whiskey 4y 90p, Four Grain Bourbon 4y 111p
Hartfield & Co. Bourbon Whiskey
Hartfield & Co. Wheated Bourbon
Hartfield & Co. White Whiskey
Hatfield & McCoy Family Brand Whiskey
Hawg Wash Bourbon
Hawk's Nest Bourbon
Hayes Parker Reserve
Heaven Hill─White, Black, Gold
Heaven Hill Blended Whiskey─80p
Heaven Hill Ultra Deluxe
Heaven's Door Whiskey
Henderson Rye─North Texas Distillers
Henry DuYore's Straight Bourbon Whiskey─NAS 91.3p, Ransom Spirits
Henry McKenna─Fairfield, Lawrenceburg, Bardstown
Henry McKenna Bottled-in-Bond Single Barrel─10y 100p, HH
Heritage Blended Whiskey
Herman*Marshall Texas Bourbon Whiskey
Herman*Marshall Texas Rye Whiskey
Hermitage
Hickory Hill
High Liquors Bourbon & Rye─High Liquors
High Society Bourbon
High West Whiskey─Bourye NAS 92p, American Prairie Reserve NAS 92p, Campfire NAS 92p, Double Rye NAS 92p, Rendezvous Rye 6y 92p, Son of Bourye NAS 92p, High West Distillery
Highspire Pure Rye Whiskey─Kindred Distilled Spirits
(The) Hilhaven Lodge─blend of bourbon, Tennessee Whiskey and rye

Hill and Hill
Hill and Hill Preferred
Hill Billy Bourbon
Hillman Rye─Hillman Spirits
Hillrock─Double Cask Rye Whiskey NAS 90p, Single Malt Whiskey Next 86p, Solera Aged Bourbon Whiskey NAS 92.6p, Hillrock Estate Distillery
Hirsch Select─Preiss Imports
Hirsch Selection─Small Batch Reserve Kentucky Straight Bourbon Whiskey NAS 92p, Special Reserve American Whiskey 20y 86p, Preiss Imports
Holladay White Dog─Holladay Distillery
Home of Kentucky
Homestead Bourbon─Homestead American whiskey, MGP
Honest Pure Rye─WM. Edwards & Co.
Hooker's House bourbon and Rye─Prohibition Spirits
Horned Hare Bourbon─Atelier Vie/Chimera Spirits
Hotel Tango Bravo Bourbon
Hudson Whiskey─Baby Bourbon, Four Grain Bourbon, Manhattan Rye, Single Malt, Tuthilltown Spirits
Huges Belle of Bedford Rye─Rowhouse Spirits
Hughes Bros. Rye
Huling Station─Old Dominic Distillery