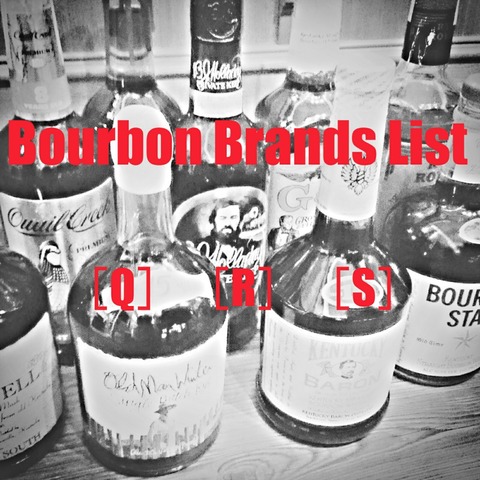 Bourbon Blands List
【Q】
Quality House
Quarter Horse Bourbon
【R】
(rī)¹─pronounce "Rye One", NAS 92p, JB

Racquet Club─Distilled in Bernheim
Rainbow Creek Bourbon
Rally Point Rye Whiskey─Still 630 LLC
Rare Perfection Bourbon & Rye─JP export
Rathskeller Rye─KBD bottling for Louisville's Grand Hotel
Rawhide Bourbon
Rebecca─HH export
Rebecca Creek Fine Texas Spirit Whiskey─NAS 80p
Rebel Yell─SW
Rebel Yell Bourbon & Rye─Luxco
Rebel Yell 10 Year 101 Proof Square Decanter
Rebellion Bourbon─Market Street Spirits, distilled at MGP
Red & Gold─15y 101p, KBD
Red Handed Rye─Treaty Oak Distilling
Red Hook Rye─bottled by Willett
Red Stag─Apple, Black Cherry, Honey Tea, Spiced
Red State Bourbon─for the 2012 election
Redemption─High-Rye Bourbon NAS 92p, Rye Whiskey NAS 92p, Straight Bourbon Whiskey NAS 82p, Barrel Proof Straight Rye Whiskey 6y 121.8p, Bardstown Barrel Selections
Reservoir─Bourbon Whiskey NAS 100p, Rye Whiskey NAS 100p, Wheat Whiskey NAS 100p
Resilient Bourbon─Strong Spirits, distilled in Indiana
Rhetoric─Diageo's Orphan Barrel series, distilled at Bernheim
Ridge Reserve Bourbon
Rieger's Kansas City Whiskey─92p
Rising Creek Bourbon & Rye
Rittenhouse Rye
Riverboat Rye─Bardstown Barrel Selections
Rock Hill Farms─mush #2, Age International, distilled at BT
Rock Town─Arkansas Bourbon Whiskey NAS 92p, Arkansas Rye Whiskey NAS 92p, Arkansas Hickory Smoked Whiskey NAS 90p, Rock Town Distillery
RockCastle Bourbon─Barrel House Distilling Co.
Rocklands BBQ & Grilling Co. Bourbon
Rogue Spirits Oregon Rye Malt Whiskey─Rogue Ales & Spirits
Rogue Spirits Oregon Single Malt Whiskey─Rogue Ales & Spirits
Rogue Spirits Rolling Thunder Stouted Whiskey─Rogue Ales & Spirits
Rolling-K─JP only
Roost Bourbon
Rose's "Purity" Rye─R.M. Rose Co.
Rosewood's 7 Year─Bardstown
Rough Rider─Double Casked Straight Bourbon Whisky NAS 90p, Three Barrel Rye Whisky NAS 90p, Long Island Spirits
RoughStock─Montana Bourbon Whiskey NAS 90p, RoughStock
Rowan's Creek─12y 101p, NAS 101p, Willett Distillery
Royale Club Blended Whiskey
Russell's Reserve─Kentucky Straight Bourbon Whiskey 10y 90p, Single Barrel NAS 110p, Kentucky Straight Rye Whiskey
6y 90p, WT
Russell's Reserve─1998, 2002, limited release
Rye Royal─Frank-Lin Distillers Products, distilled in PA
Rye Whiskey 30─Bourbon 30
Ryskie Rye Whiskey─Glenns Creek Distilling
【S】
Sagamore Spirit Rye─Sagamore Spirits
Saint Cloud Kentucky Bourbon
Saloon Bourbon & Rye─PA Private Label Spirits
Sam Clay─Yellow Label 6y BIB, White Label 8y 80p, 10y
Sam Houston─Bottled by KBD, McClain & Kyne
Sam Houston─NAS 86p, Western Spirits
Sam Sykes
Samuel Grant─Safeway brand
Samuels 1844─6y 101p
Sazerac─BTAC
Sazerac Rye─90p, Distilled at BT, Sazerac
Seagram's 7 Crown Blended Whiskey─now Diageo
Sec8onds Rye Whiskey
Setter
Shippen Bros. Bleu Sky Rye─Diversa
Single Oak Project─Buffalo Trace Distillery
Single Track Rye─Range and River Distilling
Sinister Rye─Redline Beverage
Sir Walter
Six & Twenty 5 Grain Bourbon Whiskey
Sixth Street Bourbon & Rye─Johnson County Distillery/Dime Box Distillery
Smoke Wagon Bourbon─H&C Distilling
Smokin' Joe's Bourbon & Rye─PA Private Label Spirits
Smooth Ambler Old Scout Bourbon, Rye and Corn Whiskey─Smooth Ambler Spirits
Smuggler's Notch Bourbon & Rye
Society of Bourbon Connoisseurs Cask Proof─Lawrenceburg, Bardstown
Southern─Bourbon Whiskey NAS 95p, Corn whiskey NAS 95p, Rye Whiskey NAS 95p, Thirteenth Colony
Southshot Bourbon
Southwell Bourbon
Speakeasy Select─KBD bottling for Louisville's Grand Hotel
Spirit of America Bourbon─Hobson & Roberts
Spirit of Today
Spirit Shop Bourbon
Spring House Bourbon & Rye
Spring Mill Bourbon─Heartland Distillers
Spring River─12y 86p quart, 12y 101p JP export, 15y 86p JP export, HH
Springs Bourbon
St. George Single Malt Whiskey─NAS 86p, St. George Spirits
Stagg Jr.─BT
Stave & Barrel Bourbon─Glenns Creek Distilling
Stephen Foster─Black Label 8y, HH
Stephen Foster Rye─local area, HH
Still Moon Corn Whiskey
Stillbrook─The American Distilling Co.
Stillbrook Deluxe─McCormick
Stillbrook Corn─BIB, The American Distilling Co.
Stillhouse Black Bourbon
Stillhouse Original Whiskey─100% Corn Whiskey
Stonebrook─8y BIB
StoneHammer Bourbon
Stoutheart Bourbon─Hobson & Roberts
Stranahan's Colorado Whiskey─2y 94p, Stranahan's
Stumphouse Whiskey─Distilled from wheat mash, Dark Corner Distillery
Stumpy's Old Monroe
Sumter's Reserve Bourbon & Rye
Sunny Brook
Sunny Glen─12y, HH
Sutton Club Blended Whiskey