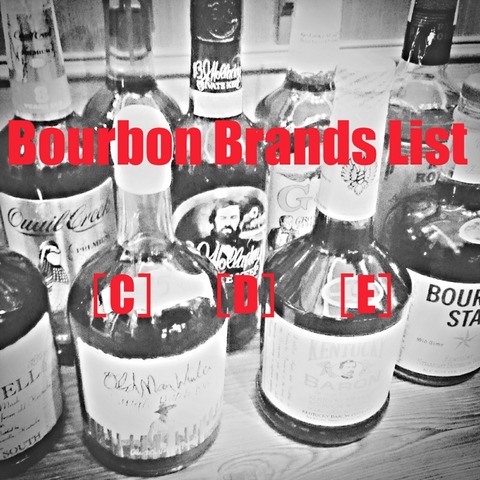 Bourbon Brands List
【C】C.B. JacksonCabin Still
─SW, HH
Cadée Bourbon & Rye
─Cadée Distillery
Cadenhead's Authentic Collection World Whiskies America
─Distilled at Frankfort
Cadenhead's Authentic Collection World Whiskies Cask Strength American
─6y, 9y, Distilled at Frankfort
Cadenhead's World Whiskies America Individual Cask
─ 9y 123p, HH
Calvert Extra
─blended
Carstairs White Seal Blended WhiskeyCascade Whisky
─Geo. A. Dickel & Co.
Cascadia Rye
─Cadée Distillery
Case Study Bourbon
─Distilled in Tennessee
Casey Jones Moonshine
─Casey's Cut, Apple Cut, Peach Cut, Muscadine Cut, Barrel Cut, Casey Jones Distillery
Casper's WhiskeyCassius Clay BourbonCatoctin Creek Rabble Rouser Rye BiB
─Catoctin Creek Distilling Co.
Catoctin Creek Roundstone Rye
─80p, Distiller's Edition 92p, Cask Proof,
Cask Proof Maple Finished(
special release
), Cask Proof Peach Brandy Finished(
special release
), Cask Proof Brandy Finished(
special release
),
Catoctin Creek Distilling Co.
Cavalry Last Stand BourbonCedar Brook
─W.H. Mcbrayer's
Cedar Ridge Iowa Bourbon WhiskeyCedar Ridge Malted Rye WhiskeyCH Bourbon
─CH Distillery
ChampionChapin & GoreCharbay S Hop Flavored WhiskeyCharbay R5 Hop Flavored WhiskeyCharles Goodnight
─Frank-Lin Distillers
Charter 101
─BT
Chattanooga 1816 Reserve
─Chattanooga Whiskey Co.
Chester GravesChestnut Branch BourbonChestnut FarmsChicken Cock WhiskeyClarion Bourbon and Blended Whiskey
─Distilled Spirits Epicenter
Clark & Martin Private Stock Bourbon
─Clark Distributing
Classic Cask
─bourbon, rye, KBD bottled for Spirit Imports Inc.
Clayton James
Tennessee Whiskey─90p, Tenn South Distillery
Clementine
─probably JP export, Barton, HH
Cleveland Rye Whiskey
─Cleveland Whiskey
Clinch Mountain Tennessee WhiskeyCloud's Batch '41 Blended Wheat WhiskeyClyde May's Alabama Style WhiskeyCock of the Walk
─KBD
Cody Road
Bourbon Whiskey─NAS 90p, Mississippi River Distilling Co.
Cody Road
Rye Whiskey─NAS 80p, Mississippi River Distilling Co.
Collabor&tion
─Bardstown Bourbon Company
Collier and Mckeel Tennessee WhiskeyColonel E.H. Taylor
─Small Batch, Single Barrel, Straight Rye, Old Fashioned Sour Mash, Warehouse C Tornado Surviving, Cured Oak, Seasoned Wood, Four Grain
Colonel Lee
─Premium, NAS 86p, BIB, Barton
Colonel Randolph
─14y 116p, 16y 116p, 14y 107p
Colonel's Choice
─10y
Colonel's PrideColorado Gold Bourbon & RyeConey Island Carlo Bourbon
─Terresentia, distilled at MGP
Cooper's Classic American Whiskey
─Cooperstown Distillery
Copper City Straight Bourbon
─Arizona Distilling Co.
Copper Cross Hybrid Whiskey
─Dehner Distillery
Copper Fox Rye Whisky
─Copper Fox Distillery Enterprises LLC
Copper Pony RyeCorn Star Corn Whiskey
─Bardstown Barrel Selections, MGP
Corner CreekCorsair 100% RyeCorsair Buck YeahCorsair Cherrywood SmokeCorsair CitraCorsair Elderflower BohemianCorsair GrainiacCorsair HopmonsterCorsair Insane in the GrainCorsair NashvilleCorsair Oak Smoked Wheat WhiskeyCorsair Oatmeal StoutCorsair OatrageCorsair Quinoa WhiskeyCorsair RyemageddonCorsair Toriticale WhiskeyCorsair Triple SmokeCorsair WildfireCotton Hollow Bourbon & Rye
─Cotton Hollow Distilling
Cougar Bourbon & Rye
─Foster's
Coulson'sCountry Aged
─4y 80p, HH
Country GentlemanCountry Road
─JB
Country Smooth American Whiskey
─Speakeasy Spirits
Cream of KentuckyCream of Kentucky
─11.5y 102p, J.W. Rutledge Distillery
Cream of Nelson
─8y 91p, 12y 86p, 15y 101p, Willett
Crown Derby
─12y 101p, KBD
Crown of Nelson
─12y 80p, 15y 101p, Willett
Crusader BourbonCyrus Noble
【D】Dad's Hat Pennsylvania Rye
─Mountain Laurel Spirits
Dakota Amerian WhiskeyDancing Pines Bourbon
─Dancing Pines Distillery
Daniel Stewart
─8y 90p, 12y 107p, HH
Darby's Reserve RyeDark Horse Reserve Bourbon Whiskey
─Dark Horse Distillery
Dark Horse Reunion Rye Whiskey
─Dark Horse Distillery
Davidson Reserve
─Tennessee Whiskey, Rye, Pennington Distilling Co.
Daviess CountyDead Guy Whiskey
─Rogue Ales & Spirits
Deadwood Bourbon
─Strong Spirits, MGP
Deadwood Rye
─MGP plus Tennessee Rye
Deceptivus Bourbon
─Cadée Distillery
Defiance Whiskey
─Defiant Spirits LLC
Defiant American Single Malt Whiskey
─Blue Ridge Distilling Co.
Defiant Rye Whiskey
─Catskill Distilling Co.
Delaware Phoenix Distillery Rye Whiskey─The Delaware Phoenix Distillery
Delilah's RyeDerby Rose
─12y 86p, KBD
Devil Dog BourbonDevil John Dark 'Shine
─Barrel House Distilling Co.
Devil John Moonshine
─Barrel House Distilling Co.
Devils Liver Bourbon & RyeDierbergs
─Oak Park Distilling
Distiller's Pride
─Fairfield, Bardstown
Dixie Dew
─Corn Whiskey
Doubleday Bourbon
─Cooperstown Distillery
Dougherty's Private Stock Pure Rye WhiskeyDry Fly Bourbon 101
─Dry Fly Distilling
Dry Fly Washington Wheat Whiskey
─Dry Fly Distilling
【E】Eagle Quest
─12y ?p, 15y 101p, Willett
Eagle Rare
─BTAC
Eagle Rare 15 Years
─JP only
Eagle Rare 101
─Seagram, Sazerac
Eagle Rare Single Barrel
─BT
Earl Durant BourbonEarl's BourbonEarly TimesEarly Times 354 Bourbon
─Brown-Forman Cor.
Early Times Bottled-in-Bond
─Brown-Forman Cor.
Early Times Brown label
─JP only
Early Times Heritage Edition 90.4 Proof
─Released in 1980
Early Times Kentucky Whisky
(not Bourbon)
Early Times Premium
─JP only
Easy Rider BourbonEcho SpringEdgar's Truth BourbonEight&Sand
Blended Bourbon Whiskey─88p
Eighteen 33 Bourbon
─Boone County Distilling Co.
Election Day BourbonEleven Jones Blended Whiskey
─Brookstone Distilling Co.
Elijah Craig
─12y, 18y, 21y, 23y, Barrel Proof
Elijah Craig Barrel Select
─NAS 125p, gift shop exclusive offering, 200ml barrel shaped bottle, a.k.a. "Grenade"
Elmer T. Lee
─Squat bottle gold wax or gold foil NAS 90p, Commemorative Edition 93p, 90th Birthday Edition 90p released in 2009, Age International, BT
Elmer T. Lee
─a.k.a. BUB(Butt Ugly Bottle) 107p, Single Barrel 90p, Age International, BT
Entrapment
(Canadian Whiskey)─Diageo's Orphan Barrel series, distilled and aged at Gimli
Evan Williams
─Green, Black, Tan, White BIB, Green BIB(area limited)
Evan Williams 12 Year
─limited release
Evan Williams 15 Year
─Wine Label, probably JP only
Evan Williams 23 Year
─limited release
Evan Williams 1783
─aged 10y, no. 10 Brand, Small Batch
Evan Williams CherryEvan Williams HoneyEvan Williams Single BarrelEzra B
Single Barrel─12y 99p
Ezra Brooks
─Hoffman, Medley, Luxco
Ezra Brooks No.19 Special ReserveEzra Brooks Rye
─Luxco